Please note that all products are handcrafted and inventory does fluctuate. If you need expedited shipping or delivery please call (952)-401-8909 to guarantee we can meet your expectations.
Description
MORE TIME THROWING = MORE FISH.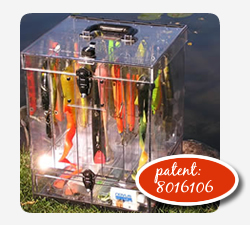 Welcome to Just Encase Products Inc. (Just Encase) the inventor, designer, and manufacturer of the patented line of "ClearView" Musky Cases. Each ClearView Case is manufactured from virtually-unbreakable polycarbonate (Lexan/Makrolon trade names).
Our standard carry cases are available in a many sizes with a variety of options and as well as in basically "Whatever you want" – Custom sizes. Just Encase also designs and manufacturers one of the latest innovations in Musky fishing. We manufacture Casting Deck Cases in both standard and custom sizes to fit any mfg./model/year of boat. These casting deck cases are designed to perform a dual purpose: as a Casting Deck and a Tackle Storage System. Built of the same clear polycarbonate material, they are strong enough to stand on and have a non-slip translucent material applied to the top.
Benefits of each ClearView Case includes…
CLEAR – find the bait you want to throw immediately
STRONG – built from virtually-unbreakable Polycarbonate, not Plexiglass or PETG which can break, crack, or chip
ELIMINATE RUST- bottom feet and ventilation holes to facilitate water drainage and air circulation
ELIMINATE FADING- protect your baits from harmful UV rays
PROTECT YOUR INVESTMENT- secure both your baits and your entire ClearView Case through an integrated dual security system
CONVENIENCE AND SAFETY- retrieve baits safely when they fall to the bottom of the box or select a model with a pull-out storage drawer
EASY UPKEEP- remove the interlocked dividers and easily clean and polish your box
Features
STANDARD FEATURES
3/8" Vent holes in the bottom and under the lid overhang to reduce or eliminate rust by enhancing air circulation/ventilation and water drainage.
Permanently attached Polymer Living Hinge – Tested 1 million times without failure
Each model comes with a complimentary Just Encase invented "Lure Retrieve" to easily retrieve a bait that falls to the bottom of the case.
Polycarbonate blocks UV rays from entering the case (see chart)
Oversize lid/top on left and right sides to allow baits to be hung on outside frame of case.
Dividers have approx. 1/2" deep notches to keep baits in place
Dividers are removable to assist in cleaning and polishing (as desired)
4×6 Divider Frame Set-up. Enables use of Bait Separator Inserts.
OPTIONS:
Bottom pull-out drawer or partial top tray for carrying tools, supplies, and other miscellaneous items.
Bait Separator Inserts. You set the spacing. They that fit inside the primary divider set
Permanently attached (you-set-the-combination) Combi-Cam 3 digit cam lock to the lid/top with cover.
Two side carry handles instead of the standard one top carry handle.
Translucent or white non-slip top application
Grey/Smoked or Amber/Bronze tinted polycarbonate
2 – 1 1/8" holes drilled in the bottom right corner for "cable locking" your ClearView Case into your boat.
Removable/Lift out boxes – "Box in a Box" set-up
Stainless Steel piano hinge
Flush stainless steel key lockable latch
Additional divider set-ups or removable/lift out boxes
ACCESSORIES:
Sticky-back interior LED touch lights
Slide-over Side Tool Box
Novus #1 Plastic Polish
Leader Tube Holder
12 oz Can Holder
Tool Bar
Adjustable divider set at 2″ intervals
Videos
Minnesota Bound
Made for the Outdoors
How Strong?
Polycarbonate vs Acrylic (Plexiglass)
Rescue Ladder – Solo Survival System
Internal Adjustable Dividers
Pro Staff
Custom Case
Please follow up with a call or email for all inquiries to confirm your information has been received!
Some request have not been received due to technical issues.
952-401-8909 – 1-888-401-8909 – info@justencase.com
Photos
Ranger
Skeeter
Lund
Alumacraft
Tuffy
Crestliner
Stratos
Pathfinder
Princecraft
Mirrocraft
Warrior
Trition
Tracker
SaveSave